Toruń - the hometown of Nicolaus Copernicus, was founded over 750 years ago and its glorious history is present all around. Toruń is second only to Cracow in the number of historic monuments of international UNESCO class. Copernicus was born here in a burger's house in 1473 and spent his young school years in Toruń. His main work "De revolutionibus..." contained the first heliocentric theory of universe.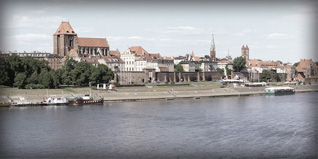 Old part of the town, separated from the new housing areas with the green belt, retains its medieval character. The Old Town Hall (at present the city museum) and three monumental gothic churches (Sts Jones', Our Lady's and St. Jacob's) are the most splendid examples of historic Toruń architecture. Narrow old streets with their special atmosphere coexist very nicely with the University which is the biggest employer in the city.

Toruń is located in central Poland, easy available by car, train and plane.